PROFESSIONAL BADGES FOR EXPERT DISTINCTIONS
Pace University is proud to offer seven digital credential badges for NACTEL (National Alliance for Communication Technology Education and Learning) program participants.
These badges represent educational expertise on their own or can be stacked for advanced badges. They can also be applied towards future Associate's or Bachelor's degree programs.


Level 1: Foundation
Level 2: Intermediate
Telecom Core
IT Core
IT Skills
Level 3: Advanced
Telecom Technologies
Data Analytics
Networking Technologies
---

COURSE DESCRIPTIONS
Download a copy of the professional badge program outline to learn more about each pathway, including required courses: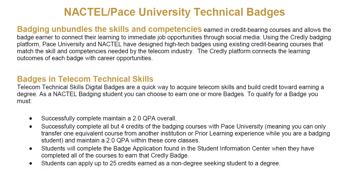 ---

ABOUT NACTEL & PACE UNIVERSITY
Our industry-driven programs are specifically designed for working adults, allowing students to fulfill their personal and professional responsibilities while earning highly accredited degrees.
Significantly discounted tuition prices. Increase your earning potential on an affordable basis.
A fully online education. Earn your Pace University degree from the comfort of your home or office.
Asynchronous courses. Complete your coursework on your time without designated class meeting times.
Dynamic course curricula. Stay up-to-date on the latest telecommunications tools and trends with regularly updated program materials and curricula.
A world-class degree with a world-class faculty.

Whether you're online or on campus, you are a Pace University graduate taught by experienced Pace professors.
---
NACTEL PARTNERS
NACTEL is governed by an Executive Board of Directors from each NACTEL partner organization.